NewsNow
A warrant has been issued for a man from Lake St. Martin.
23-year-old Alfred Beardy is wanted by Gypsumville RCMP for aggravated assault and multiple firearms offences.
It's believed he may be travelling between Gypsumville and Winnipeg.
RCMP warn that he is considered a danger to the public, and that if you see him, do not approach him. Call 911 or the Gypsumville RCMP immediately at 204-659-2682.
Details

Contributed by

Tess Kovach
For the month of August the Dauphin and District Chamber of Commerce has been sharing the stories of their members across Facebook, Twitter, and Instagram.
Stephen Chychota says they're doing the Stronger Together campaign to show off their network and members.
"We have this really great way of taking some of their stories, we got some questions we wanted to ask them and build some content out of that. So all of August, we'll have at least one picture per day and it'll come out across all our platforms and we just really want to show off that network and what it means to be stronger together."
Chychota adds that someone in business doesn't have to be on their own and feel like they're the only one out there doing their thing with no supports. Chychota says there's a network the Chamber can provide and a membership everyone can lean on.
He says all the posts have some really great stories and you get to hear how COVID changed things, why they're in business, and what it means to be a Chamber member. But, there's one post that stands out to Stephen.
"I can't get over BOHO Tatoo's post where a guy got #StrongerTogether actually tattooed on him and for his own reasons, it wasn't exactly a part of this campaign, it means something for him and it just was fitting I guess and just great timing, it worked out and I can't believe that Robbie pulled this off and yeah, it's a great post, great picture. If you haven't seen it I'd highly recommend, go check that out on any one of our platforms cause it's dangling out there, but yeah, really cool stuff."
Details

Contributed by

Isaac Wihak
Things have definitely looked a bit different this summer in the Parkland, with many of our usual plans being interrupted by COVID-19.
CKDM wanted to know just how much people have had to adapt their summer plans.
"One of the things that affected our summer was that we ended up camping a lot more – almost every weekend because we weren't going or doing anything else so it made us spend a lot more time outdoors," says one woman in Dauphin.
One mother explains it's difficult to take her young kids out in public because of Public Health guidelines.
"It affected our summer a lot because I have 3 boys, and you can't keep them in the house for too long. There are other precautions when you take them out now. You're basically trying to keep them clean, sanitize wherever they go, make sure they don't touch anything. It's more outdoors now than anything, trying to find anywhere that we can take the boys where we think there wouldn't be that many people."

``Honestly, I haven`t noticed much of a change" says another Parklander. " I`m still going to beaches, going out and noticing lots of people I don`t really feel that it`s been affected that much.``
It seems like people are saying they've still been able to have a good summer -- spending more time outdoors and with their families. Looking ahead, it seems at least a few Parklanders are eagerly awaiting the return of our normal summer routine.
Details

Contributed by

Tess Kovach
Fourty additional cases of COVID-19 have been added to Manitoba's total today.
The province now has 643 cases.
25 of the new cases are in the Prairie Mountain Health (PMH) region; none of those are in Dauphin.
Investigations are ongoing but indicate the majority of PMH cases are linked to previously announced cases in Brandon, with early signs of community transmission.
There are currently 9 people in the hospital with 3 in intensive care. Manitoba has 246 active cases and 389 people have recovered.
For more information, click here.
Details

Contributed by

Tess Kovach
The border between Canada and the U.S. will remain closed to non-essential travel for another month.
Officials from both countries have agreed to keep the border restrictions in place until at least September 21.
The ban on discretionary travel was put into effect in March, and has been extended each month since.
Details

Contributed by

Matt Hamel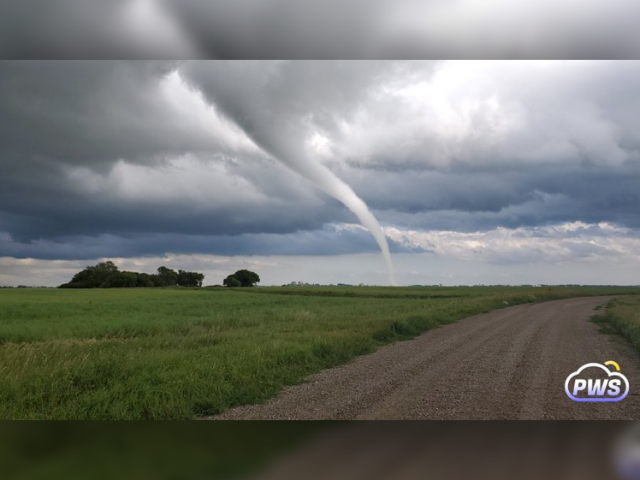 Environment Canada has confirmed a tornado touched down yesterday near Alexander, just west of Brandon.
A tornado warning was issued for southwestern Manitoba shortly after 5:00 p.m.
The tornado touched down at around 5:40 p.m.Thursday evening, and was on the ground for about 10 to 15 minutes.
Environment Canada says there haven't been any reports on the extent of any damage or injuries at this time, however posts on social media show that multiple power lines and trees were knocked over.
This comes days after a tornado touched down near Virden on Friday night, killing 2 and injuring another.
Details

Contributed by

Tess Kovach
COVID numbers are on the rise in the Prairie Mountain Health region, and the Almost New Store in Dauphin is joining other businesses in implementing a mask-wearing policy.
Manager of the Almost New Store, Janie Galloway explains you are now required to bring your own mask when shopping at the store.
"Business is going great. We love having shoppers in our store, but we want to keep everybody healthy and safe, so we are asking everyone to wear a mask."
There is still a customer limit in place – only 10 shoppers are allowed in the store at a time.
Donations continue to be by appointment only.
Details

Contributed by

Tess Kovach
Today the province released some updated protocols and guidance for Manitoba school divisions, ahead of the return to classrooms on September 8.
One updated measure is regarding the use of masks in schools — as the province now "strongly recommends" students in grades 5 to 12, and school staff wear non-medical masks in common areas where 2 metres of distance can not be maintained.
Although mask-wearing within the school remains only a recommendation at this time, the province will be mandating non-medical masks be worn on school busses for students grade 5 and above, including bus drivers.
Education Minister Kelvin Goertzen says the province will supply masks to school divisions for students and staff, along with other personal protective equipment.


COVID-19 Cases Occurring In The School
The province has also outlined a protocol in the event a COVID-19 case occurs within a school. Public health will work closely with school administrators to identify close contacts, and advise them to self-isolate.
Areas where an exposure takes place in a school will be cleaned and disinfected, and those areas will not be used until it's determined safe to do so.
School communities will be notified when a student at their school is a confirmed case, once close contacts have been identified.
Dr. Roussin notes the closure of a school would be a last resort and only with evidence of transmission among multiple groups of students or staff.

Going Forward

School divisions are set to post their individual plans during the week of August 17.
Details

Contributed by

Matt Hamel
Public Health officials have announced 25 new cases of COVID-19 in Manitoba.
The total number of cases in the province is now sitting at 603.
12 of the new cases are in the Prairie Mountain Health region. There have now been a total of 143 cases in the Prairie Mountain Health region, including 1 death.
Manitoba has 218 active cases, 377 people have recovered, and 7 people are in hospital.
The province is now giving us a closer look into where Manitoba's cases are located.
The original health regions have been divided even further, into sub-health groups. Dauphin has a total of 5 cases, with 3 active, and 2 recovered.
For more information about COVID-19 in Manitoba, click here.
Details

Contributed by

Tess Kovach
With demand for COVID-19 testing on the rise, Dauphin's COVID testing site has extended its hours of operation for this weekend.
The site will be open Sunday, August 16th from 10 a.m. – 2 p.m.
The site's regular hours are Monday to Friday from 9:00 a.m. – 3:00 p.m, closed for lunch between 12 p.m. and 12:45 p.m.
PMH will continue to monitor the need for more weekend hours on a week-by-week basis.
Details

Contributed by

Tess Kovach
During the first couple weeks of August, the Dauphin RCMP has responded to several break and enters or attempted break and enters.
RCMP say the incidents have occurred at businesses throughout the Parkland including Dauphin, Gilbert Plains, and Grandview.
The RCMP requests the public's assistance in securing or monitoring their property, securing or depositing currency and reviewing security camera footage for suspicious activity.
If you observe any suspicious activity or have any information regarding these occurrences, contact the Dauphin RCMP at 204-622-5020, Manitoba Crime Stoppers at 1 (800) 222-8477 (TIPS) or online at www.manitobacrimestoppers.com.
Details

Contributed by

Isaac Wihak