Latest Sports
Ryan Pulock, Barry Trotz, and the rest of the New York Islanders are on a roll in Toronto.
Pulock commented last week that the team is a confident group and that confidence is leading to wins and a 2-0 lead against the Washington Capitals.
The Isles scored three straight goals to secure a 5-2 win inside Scotiabank Arena.
After Alex Ovechkin opened the scoring, the Islanders scored two straight to take a 2-1 lead which was followed by another goal from Ovechkin which tied the contest.
New York would score the next three goals to solidify the victory and a two-game series lead heading into game three.
Pulock was held off the scoresheet but he still has five points in six games.
The team can take a 3-0 lead on Sunday morning.
Details

Contributed by

Darnell Duff
The Parkland U18 Rangers conditioning camp is off and running inside of Credit Union Place ahead of the 2020-2021 season.
There still is no word on when the new season will begin; however, that's not stopping the program from getting a head start.
The sessions began this past Tuesday and a session has been added on September 1 because of the interest level.
Rick Freese who will coach alongside Tyler Carefoot this season is just happy to be back on the ice.
"It felt incredible to get back on the ice and I know the players were chomping at the bit to get back at it," said Freese. "It's been a long off-season so everyone was excited."
The main point of this camp is to allow players to get back on the ice as they vie for a spot on the team's roster later this month.
"Tyler and I were chatting after the first ice session and we were pleasantly surprised with the intensity and speed," added Freese. "We got more out of them than we thought we were going to."
Main camp will feature two different sessions on September 8 and 10. They will be at 6:15 and 7:45 on September 8 and 6:15 and 7:30 on September 10. The Rangers intrasquad game hits the ice on September 15 at 7:30 p.m. at Credit Union Place.
Details

Contributed by

Darnell Duff
The Tamarack Tournament begins tomorrow at the Clear Lake Golf Course and once again, the Parkland is all over the event that is a hit every summer.
Here is a list of Parklander's that will tee it up.
Men's:
Robert Bouchard, Dave Campbell, Kody Fawcett, Regan Hedley, Jordan Hedley, Dan Keeping, John Tomlinson, Jerron Kyle, Bart Michaleski, Dale Murray, mark Odut, Lavern Popplw, Darren Ritchie, Mike Sparrow, Jay Thiessen, Mike VanAlstyne, Anthony Wiens, Jake Wiens, Noah Wiens, Lawson Yates, Jason Yates, and Brent Young.
Champion Men's:
Mel Beatty, Myles Haverluck, Brad Carefoot, Owen Connolly, Dean Cooley, Keith Fawcett, Ron Hedley, and Mike Pernarowski.
Senior Men's:
Mel Graves, Dean Murray, Frank Clement, and Larrie Kidd.
Women's:
Donna Blackbird.
Women's Scramble:
Chris Carefoot/Wanda Connolly.
Juniors:
Luke Davidson, Hayden Delaloye, Jackson Delaurier, Quinten Fisk, Cash McCallum, Eric Prokopowich, and Thomas Scott.
Stay tuned here to CKDM for full results.
Details

Contributed by

Darnell Duff
Grady Hobbs is returning for the 2020-2021 season and now, a rookie all-star from last season is set to return to the City of Sunshine.
The Dauphin Kings have announced that Austin Lamotte will return to the Club for the upcoming season. The news comes just more than three weeks before training camp is set to open inside of Credit Union Place.
"He got better and better last year. He started really finding his way in late October or early November," said Doug Hedley, head coach, and general manager. "When he played with Nakodan and Grady, they were one of the best lines in the league. We're very happy to have him back."
Lamotte scored 19 times and he had 32 assists in the regular season last year for Dauphin on his way to becoming an all-star. He also had one more point in the playoffs. On top of his offensive skill, the soon to be a second-year player is a player who puts his body on the line at any time and truly does anything he needs to help the team win games.
"He plays fearlessly. He has to work on some of his emotional part of his game and he knows that" continued Hedley. "With Hobbs set to come back, there's a very good chance that they're going to play together. We're looking forward to getting him back here and we're hoping that the Return-to-Play is sooner rather than later."
League officials are currently meeting in Brandon with the government. It's expected details will be released tomorrow on the upcoming season. As of now, Dauphin will open their season in late September.
Details

Contributed by

Darnell Duff
The Manitoba High School Athletic Association has announced their plans for the fall sports season and below are the details.
LEAGUE & EXHIBITION PLAY:
The MHSAA will permit localized league and exhibition play provided that the Zone receives approval from their respective school division(s). All current Provincial Public Health Guidelines must be followed and the sport-specific Return to Play Protocol is approved for competition.
PROVINCIAL CHAMPIONSHIPS:
Provincial Championships, for any sports, will not occur at this time and until further notice.
TOURNAMENTS:
The MHSAA will not be sanctioning any tournaments, for any sports, at this time, and until further notice.
INTERPROVINCIAL TOURNAMENTS:
MHSAA member schools will not be sanctioned to travel to or attend out-of-province tournaments at this time and until further notice.
SPECTATORS:
It is strongly recommended that school sports activities occur without spectators. However, if spectators are approved by the school division and/or principal to be present, they must comply with the maximum gathering limits and must maintain physical distancing measures.
We will be providing more information and reaction from the Parkland in the coming days.
Details

Contributed by

Darnell Duff
Justin Valentino has taken a long journey to his professional hockey days and for years, he called the Parkland region his home. Originally from Thompson, he joined the Swan Valley Stampeders in the 2011-2012 season full-time after he played eight games with the team in the prior season.
After 169 games with the Stamps', Valentino made the move two hours south as he joined the Dauphin Kings at the end of the 2013-2014 season, one in which the Kings played in the Western Canada Cup and
Royal Bank Cup which is now the Centennial Cup.
The Thompson native would make an immediate impact with Dauphin as he had 20 regular-season points with the team which was followed with another three goals and three assists in 13 playoff games.
In the Western Canada Cup, Valentino had seven assists in six games and he added one more assist in five games at the Royal Bank Cup. In all, the former Norman Northstar collected 34 points during his time with the City of Sunshine's junior hockey organization.
That run to the Royal Bank Cup was Justin's final as a junior hockey player, but he wasn't done with hockey nor his studies. He signed on to play with the University of Lethbridge Pronghorns men's hockey team and he became an everyday player from the very first game as he played in 28 games in each of the five seasons he spent at the U of L. During a 140 game stint with the Club, Justin racked up 41 goals and 55 assists.
"Those were honestly five of the best years of my life. I know the team didn't enjoy as much success as we would have hoped, but I loved every minute of it," said Valentino. "It was tough at the start balancing school with hockey, but I got the hang of it pretty quickly and it was pretty smooth after a while. Lethbridge taught me so much and I'm grateful that I was given the opportunity to play with them and go to school there."
After a two-game exit from the playoffs in the 2019 playoffs, Justin's USports career officially came to an end. At this point, he would have to find a professional contract if he wanted to continue playing elite hockey and a team from France came knocking at his door.
Briançon who play in the France non-elite league signed the Thompson native to a contract; however, his days in France didn't last long. He only played eight games with the team where he had four points, one of which was a goal before he was released from his contract. From there, Valentino didn't actually have a plan. He would end up going to Hungary to stay with a friend and he was just about to come back to Manitoba.
"It was definitely a roller coaster ride. Nothing happened overnight, I just had to stay patient and hope something would come up," said Valentino.
There's a saying "patience is a virtue". And Justin's patience did end up paying off as he was signed by the Podhale Nowy Targ men's team in Poland so he packed up his bags and made the move.
"I was really grateful that I got this opportunity, I was hoping something would come up and I was lucky enough that something did," offered Valentino.
After a solid start point production-wise to his professional days in France, Valentino would continue with that success in Poland where he would score eight goals and add nine assists in 30 regular-season games.
The Club would go 24-13 which earned them a spot in the playoffs. In the end, the team lost in the quarterfinals which officially put an end to Valentino's first professional season.
"It was a roller coaster ride with quite a few ups and downs. I just tried to learn as much as I could every day," said Valentino. "Am I satisfied with the production, yes, but I think you always want and expect more from yourself."
Those six playoff games are also something that Valentino won't forget as he embarks on a new journey.
"It was crazy, it's almost like a soccer game," he said. "You can't even talk on the ice, it's so loud on the ice, and all the fans are so passionate. You have to scream at players just to get their attention, that really was amazing getting that chance and I'll cherish it."
Canada bound:
After a memorable year overseas in France and Poland, Valentino is coming back to the country he was born in and his dream of continuing his professional hockey career will continue as well. Justin has signed a Standard Player Contract with the Brampton Beast, a member of the ECHL.
The ECHL (formerly known as the East Coast Hockey League) is a mid-level professional ice hockey league with just two Canadian teams with the other being in Newfoundland. The ECHL is two levels below the NHL with the AHL being the next jump before the NHL. The Beast play in the North Division alongside the Growlers, Reading Royals, Adirondack Thunder, Maine Mariners, and the Worcester Railers. The team plays 36 games at home and 36 on the road to make up a 72 game regular-season schedule.
Brampton went 34-25-3 last season which gave them 71 points, nine less than Reading who occupied the final playoff spot in the division.
The ECHL has put a tentative start date on the 2020-2021 season with things set to begin on December 4 with each team still playing the full 72 games.
"I'm really looking forward to this new opportunity in Brampton," said Valentino. "I can't wait for the season to get going when it gets going. I'll get on the ice as much as possible so I can stay in shape and be ready for when camp starts up."
When the season does eventually start up, Valentino knows that there will be another learning curve. He did endure a fair amount of travel while playing junior hockey and through his five years in Lethbridge and last year overseas. However, this year's season will be like none other when it comes to travel.
From January 5 to January 12 last season, Brampton played five games. They made stops to play the Orlando Solar Bears, Florida Everblades, South Carolina Stingrays, the Jacksonville Icemen, and the Atlanta Gladiators. The team spent more than 40 hours on a bus travelling to those games and they covered nearly 6000 kilometres in a matter of a week.
The above is just a little insight into how much travel Valentino will go through this upcoming season. When asked about if he's ready for that he said he is and he's also expecting a solid first season in the ECHL.
"My biggest expectation is just being consistent. I want to be that kind of guy every day whether it's at practice or at a game," ended Valentino. "I'll do whatever it takes to help this team win games and we'll see how things go."
Justin began his competitive hockey days with the Norman Northstars in the 2009-2010 season. His journey continued to Swan Valley where he played with the Stamps' before he was given a chance to play at a national championship with the Kings. Now six years after he began his university career with Lethbridge, Valentino's wild ride is set to continue and now, we just hope that December 4 is the day when play can resume in the ECHL.
Details

Contributed by

Darnell Duff
The Gilbert Plains Country Club is dubbed as Parkland's premiere golf destination and an increased amount of people are getting out to enjoy what the Club has to offer.
From the friendly pro shop staff to the wonderful staff in the kitchen and the fantastic 18 hole layout that plays to a par 71, the Gilbert Plains Country Club is a great place for golfers of all skill levels whether you're a scratch player or a recreational one just looking to have some fun.
The course opened back on May 4 and Scott McCallum is happy to say things have gone very well as the season enters the back end portion of play.
"It's been a funny year, we were nervous to start the season with everything going on," said McCallum. "With the extra cleaning and sanitizing we're doing, it's taken a little bit more manpower, but that's okay. It's been a very good year so far and the golfers are coming out in bunches."

"We've definitely seen a lot more traffic green fee wise this year, it's always great when people experience our course," he added.
Another bonus you'll enjoy by visiting the Club is the condition of the course. From the very beginning of the season until the last day of play, the grounds crew prides itself on providing the best possible playing conditions.
"Our crew is pretty incredible. They keep this course in immaculate shape," ended McCallum. "They work very hard at it and no one is disappointed when they come to play, that's for sure. We get a ton of compliments."
You can book your tee times online at Gilbert Plains Country Club or by calling 548-3030.
Details

Contributed by

Darnell Duff
Ryan Pulock continues to rack up points and the New York Islanders continue to rack up wins.
After trailing 2-1 through 40 minutes, the Islanders scored three goals in the third period to secure a 4-2 win and a 1-0 series lead.
Pulock had one assist which gives him five points through five games.
Game two goes on Friday evening.
Details

Contributed by

Darnell Duff
Coming into this summer, Jackson Delaurier had a goal of winning the Westman Junior Tour in the 14 & under age group. Of course, it would be a hard goal to achieve as he was joined by some of the best juniors in the province in his age group.
The summer-long circuit started just more than two months ago at the Minnedosa Golf & Country Club where Jackson shot an 82 to claim his first championship of the season and that one proved to be the first of many. In the matter of three weeks in June and three tournaments, Delaurier had three titles with all of his scores being in the low 80s.
Now as we fast forward to yesterday, Delaurier had the opportunity to finish the circuit in a style that he didn't even think was possible. He had won six tournaments this season and finished in a tie for first in the other meaning he had the chance to finish the season perfect if he brought his best game to the Oak Island Golf Course.
His best was exactly what the young man from Dauphin brought as he shot a 75 to win the tournament by five strokes and his course was the lowest of the season so far on the Westman Junior Tour.
"It's just great knowing that I've played so well in tournament golf this summer," said Delaurier. "Even when I'm not playing the best, I still found ways to get it done and that makes me really happy."
Added all up and Jackson has won seven championships this season alongside one tie for first which earned him 50 points and for the first time in his young golf career, Delaurier has won the Westman Junior Tour's 14 & under age group. He ended up with 14 more points than the second-place competitor.
"I'm really happy that I won it all. That was my goal at the beginning of the season and it feels amazing to be able to achieve my goal," offered Delaurier.
Delaurier wasn't the only Parklander who ended up having a great summer on the circuit. Luke Myhre finished behind Jackson in a tie for second with 36 points while Boston Karlson finished in ninth. Ryan Gower from McCreary finished in seventh. In the 12 & under age group, Hayden Shtykalo finished in solo second place with 45.5 points, 2.5 behind Carson Craig who won the title. Quinten Fisk finished in sixth.
"It's great to see some other people from my area play well and compete hard," said Delaurier.
Delaurier also finished runner-up at the provincial bantam champion, losing in a playoff. He one day hopes to secure an NCAA D1 scholarship.
Next up for Jackson is a trip to the Clear Lake Golf Course where he will look to improve on his performance from last season at the Tamarack Tournament. He did win a title at the event last year; however, it came in the fourth flight, and admittedly so, that wasn't good enough and he wants more. Delaurier's goal is to advance to the championship flight this season and he will need a good qualifier round to make that happen in an event that is stacked from top to bottom.
"My irons are pretty dialed in right now and I'm feeling really confident," ended Delaurier. "I won a putter on the Westman Tour so I think that's going to really help me out. I also know where I have to be at Clear Lake, so I'm looking forward to the challenge and we will see how it goes."
Details

Contributed by

Darnell Duff
Ryan Pulock is living the bubble life as are all 16 teams still remaining in the Stanley Cup Playoffs that officially got underway yesterday after the qualification round.
Coached by Barry Trotz, the Islanders played the Florida Panthers in the first-round best-of-five series. After he was held off the scoresheet in the first game of the series, Pulock had one goal and one assist in the second game. He followed that up with a pair of assists in the next two games of the series to finish with one goal and three assists and most importantly, the Islanders won the best-of-five in four games.
Pulock played more than 20 minutes in three of the four games as he continues to be one of the team's most reliable defenders.
"Yeah, that was good for our team. I think guys came back from the break sharp and we had a really good training camp," said Pulock from Toronto. "We did a pretty good job of 5-on-5 in that series. We competed well and I think our execution should help us going forward."
Anthony Beauvillier leads New York with five points after a three-goal, two-assist qualification series. Three skaters are right behind Beauvillier in points with four, including the Grandview native who has already broken his previous NHL playoff record in points. He had one assist in eight games last season.
"I want to bring some of that offensive touch to the team, that's an important thing for me," added Pulock. "Obviously my main goal is focusing on my own defensive game, but I like to chip in offensively when I can."
The Bubble:
It's something that the NHL has implemented so that the playoffs can be played and to minimize the risk of COVID-19 transmission among players, coaches, and all team officials. The Western Conference is in Edmonton while Pulock, Trotz, and the Islanders find themselves in Toronto playing at Scotiabank Arena, the home of the Toronto Maple Leafs who was eliminated in the qualification series.
All teams are in their designated hotels and they're not able to leave those. Although, the NHL has certain activities and areas that players can go. Pulock hasn't been able to golf yet; however, he has heard rumours that could be an option going forward and as an avid golfer, that's always intriguing news.
At the end of the day, however, it's all about the task at hand and that's winning games, something the team did three times in their first four games which have led them to the 'Sweet 16'.
"It's actually been pretty fun. Each team has their designated floor and we've had the chance to have a big ping pong tournament," shared Pulock. "We're getting a great chance to bond with each other and become closer. I think the NHL has done a great job in setting things up and doing everything they can to make sure everyone is safe."
Pulock says life in the bubble has exceeded his expectations.
Trotz against former team:
One of the biggest headlines heading into New York's series against the Washington Capitals is Barry Trotz. He led the Capitals to their first-ever Stanley Cup title in 2018 when they beat the Vegas Golden Knights. Now, Trotz is on the opposing team's bench as he looks to guide the Islanders to a title.
The two teams went 2-2 against each other in the regular season. Trotz is known as a coach that gets his team to focus on defence first and they will certainly have their hands full starting this afternoon. Led by John Carlson's 75 points in the regular season, Alex Ovechkin finished with 67, 48 of which were goals. Nicklas Backstrom is also a severe threat. In net, Braden Holtby played in all three round-robin games for Washington going 1-1-1 with a .925 save percentage and a 1.98 goals-against average.
"We know it's going to be a tough matchup, but we're confident. We like how we play and our style," offered Pulock. "We have to do a great job 5-on-5 and we have to stay out of the box because they're pretty lethal on the power play. We're two teams with some big guys who like to play tough so it should be a heavy series."
No fans:
Teams still have their own horns after they score a goal, but that really is the one thing similar to what they're used to. All games in both Toronto and Edmonton are being played without fans in the stands. Side effects are being dubbed in and the NHL is doing their best to provide fans an enjoyable experience on the television.
On the ice, it's business as usual, just without thousands and thousands of fans screaming and heckling in the stands.
"It's been a little different, but I don't think it's been as bad as I expected," ended Pulock. "I think the NHL has done a good job with some of the noise they've pumped in, it kind of feels real. We're playing for a Stanley Cup so the intensity is high and everyone knows what's up for grabs."
Every single one of Ryan's games will be broadcasted on Sportsnet.
Details

Contributed by

Darnell Duff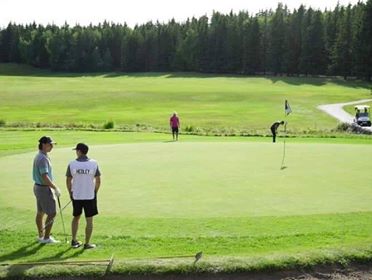 The tee-times have been set and we're only days away from the Tamarack Tournament at the Clear Lake Golf Course and once again, the Parkland is set to make their mark on this annual event.
Here is the list of some locals that will tee it up.
Champion Men's:
Keith Fawcett (has won this event two straight years), Mel Beatty.
Men's
Kody Fawcett (won this event two years ago), John Tomlinson, Anthony Wiens, Dave Campbell, Robert Bouchard, Mark Odut, Bart Michaleski, Jake Wiens, Noah Wiens, Jason Yates, Lawson Yates, Joran Hedley, Regan Hedley, Dan Keeping, Mike Sparrow, Jerron Kyle, Ian Stirling, Mike VanAlstyne, Dustin Dyck (won this event last year).
Junior Men's and Ladies:
Luke Davidson, Hayden Delaloye, Jackson Delaurier, Cash McCallum, Luke Myhre, Eric Prokopowich, Thomas Scott.
Ladies:
Donna Blackbird.
Seniors:
Frank Clement, Murray Delamare, Mel Graves, Larrie Kidd, Merril Kilimnik, Bill Martinook, Dean Murray.
Stay tuned here to CKDM as we'll have results throughout the event.
Details

Contributed by

Darnell Duff